| | |
| --- | --- |
| Hopewell | Princeton |
| | |
| Philadelphia & Reading RR Depot and Train Station | Nassau Street Looking East, Sage Tower |
| | |
| West Broad Street | Palmer Square and Tavern |
| | |
| Greenwood Avenue Looking North | The Nassau Inn, J.B. Renwick, Prop. |
| | |
| Saint Michael's Orphanage | Alexander Hall, Princeton University |
| | |
| Labaw Residence on Louellen Street | Horse and Buggy, Nassau & Witherspoon Street |
| | |
| Hopewell Dainties (The Chocolate Factory) | Cuyler Hall, Princeton University |
| | |
| Hopewell Bakery & Cash Grocery, C.H. Allen, Prop. | Skating on Loch Carnegie |
| | |
| Blackwell Avenue Looking North | Quaker Meeting House |
| | |
| Columbia Avenue | Blair Hall and Campbell Hall, Princeton University |
| | |
| Ralston Heights, Stairway to Great Walled Garden | Princeton Inn |
| | |
| Hart Avenue | Van Deventer Avenue |
| | |
| Blackwell Avenue Looking South | Birdseye View of Palmer Square |
| | |
| Old School Babtist Church, John Hart Memorial | Football Game, circa 1910, Princeton University |
Midway between New York City and Philadelphia, I've long called Hopewell and Princeton home — this page a collection of vintage postcards, purely for enjoyment (with nod to Thornton Wilder's "Our Town", first performed at Princeton's McCarter Theatre on January 22, 1938.)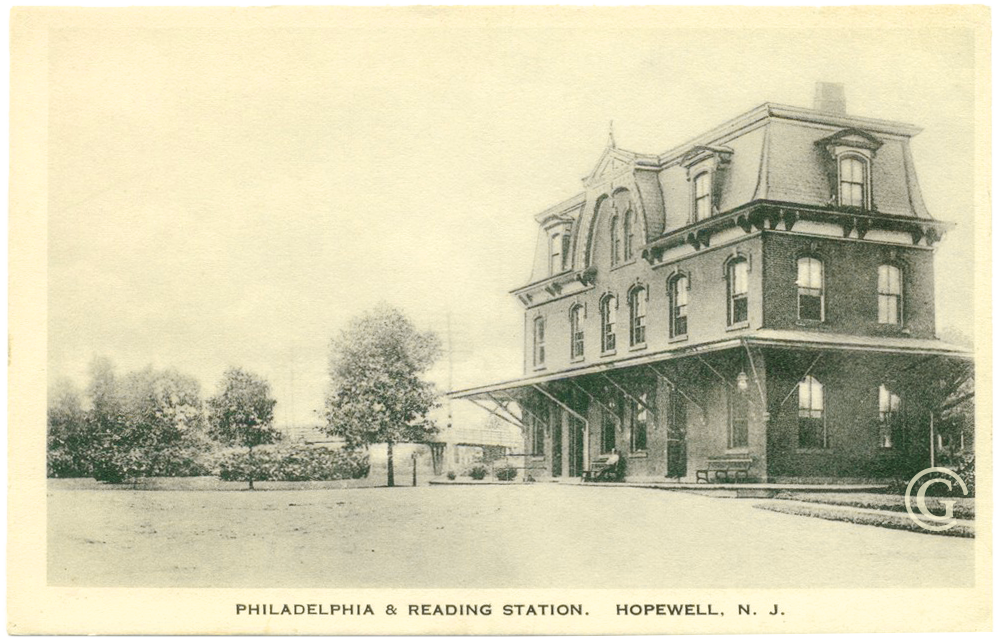 This site's masthead is an original photo-illustration that I created in Photoshop, the red brick building is based on the Philadelphia & Reading Train Station in Hopewell Borough, New Jersey. Both the building and the surroundings look a bit different in person, and other Victorian-era train stations are of virtually identical design. Built in 1876, the Hopewell P&R has been on the state and federal registers of historic places since 1984; still an active freight line; passenger service ceased in 1982; today the station is used as a community center.
Different seasons and different holidays, I've built a collection of themes which rotate through over the course of a year — here is a sampling of what you might see up top, depending on when you visit.


Birthday of Martin Luther King, Jr.


Independence Day


Seasonal, Autumn
A note for collectors: While I much appreciate the charm of well-worn ephemera, I instead decided to show the postcards as closer-to-new. I've done some photo-restoration to each of the postcards, also taking a measure of 'artistic license' with some of them. –cj