William H. Morley Lenox 1920s Kuser Pheasant Dinner Plate
October is here!
And holiday shoppers are soon scouring for those special gifts, so before that begins: Use the email link on any item page to send us your
BEST OFFER
and we will send you a special promo code for that item, at your offer or close as we can. Thanks!
---
---
---
Museum worthy and truly one of a kind. This dinner plate, made around 1921 and hand-painted by William H. Morley — considered by most the finest painter of Lenox porcelain — is the same painted pheasant that graces one of the plates in the (finished, delivered) Kuser Pheasant Set; here with the gold-gilt band omitted; see and compare to the Christie's auction photo, below.
The Kuser Pheasant Plates are a set of twelve dinner plates commissioned by New Jersey businessman and philanthropist "Colonel" Anthony R. Kuser. They were produced by Lenox in Trenton, New Jersey, painted by William W.H. Morley, who modeled them on the ornithological works of the famous American naturalist William Beebe. The story behind the pheasant on this plate begins in 1909, with what came to be known as the Kuser-Beebe Expedition — more on that in a bit.
From a 1922 New York Times article that describes an exhibition at the Metropolitan Museum of Art, $1000 China Plate Shown at Museum, the following:
❝ In the bridge-building Roebling family of New Jersey there are thirty or forty orchid plates made at a cost of from $3000 to $4000, for the late Charles G. Roebling, who was an orchid expert. […] Another man who had a hobby was also fond of white china and brought the two together, was Colonel Anthony R. Kuser of Bernardsville, N.J. Colonel Kuser was interested in pheasants and had a pheasant farm. He was one of the men that started an expedition to India, Ceylon, the different parts of the world where the birds are found in their natural habitat to bring back reproductions which eventually found their way into a beautiful and expensive book.❞
Regarding this SINGLE pheasant-plate, sans gilt band but otherwise just like one of the plates in the Kuser-family set: Unknown as to whether Morley painted this as an artist's proof — to be shown to the Kusers for approval prior to the set being produced — or whether perhaps it picked up the pair of tiny rim-chips during firing and another had to be painted to complete the set.
On the front, hand-signed: "W.H. Morley". On the back: "Prince of Wales Pheasant, Phasianus principalis, N.W. Afghanistan, N.E. Persia" (which is the range of this species), no Lenox backstamp, no pattern or cypher numbers, 10.5 inches in diameter, two small chips on the rim each about 2x4mm, a few surface scratches but overall in very good condition.
~
Historical Background
~
THE PHEASANT EXPEDITION — The story behind the pheasant on this plate begins in 1909, with what came to be known as the Kuser-Beebe Expedition, an around-the-world excursion led by William Beebe to study and document the pheasant. Personally financed by the Kusers, under the auspices of the New York Zoological Society, the expedition spanned 17 months and much of Asia, from Ceylon to Kashmir, in the Himalayas, to Burma, Java, China and Japan in the Far East.
By the end of 1914, Beebe's pheasant monograph was essentially complete, the illustrations were in the process of being printed when World War I began, thereby delaying the project for four years. "A Monograph of the Pheasants" was published in four volumes from 1918 to 1922, by Witherby and Co., London, in a Limited Edition of 600 copies. The illustrations were provided by several artists, among them: George Edward Lodge, Charles R. Knight, and Louis Agassiz Fuertes. Also during this period, Colonel Anthony Kuser engaged the Lenox Company to produce a set of dinner plates adorned with images of pheasants.
W.H. Morley modeled his pheasants from William Beebe's "A Monograph of the Pheasants" — the bird featured on this Lenox dinner plate is: Volume III, Plate LI (Prince of Wales Pheasant); here is Plate LI (Plate 51) hosted by the Biodiversity Heritage Library.
~
William Beebe, born Charles William Beebe (July 29, 1877 - June 4, 1962) was an American naturalist, ornithologist, marine biologist, entomologist, explorer, and author. He is remembered for the numerous expeditions he conducted for the New York Zoological Society, his deep dives in the Bathysphere, and his prolific scientific writing for both academic and popular audiences." A pioneer in the field now known as ecology, he did much to make science accessible to the general public, and was one of the most important early advocates of environmental conservation. Rachel Carson, author of "Silent Spring", regarded Beebe as both a friend and an inspiration. During the course of his career, Beebe authored over 800 articles and 21 books, including his four-volume pheasant monograph.
~
"Colonel" Anthony R. Kuser (May 12, 1862 - February 8, 1929) was a businessman and philanthropist from Bernardsville, New Jersey. Born into a world of privilege, he nonetheless embraced the Progressive Movement and its devotion to betterment for the masses. Colonel Kuser served on the board of more than 50 corporations, was an organizer of the NJ State Fair, and served on several state commissions. But the Colonel's real love was the outdoors and birds. He was a founding member of the New Jersey Audubon Society and a member of the New York Zoological Society. He and his wife, Susie Fairfield Dryden, even kept a private aviary at their home in Bernardsville. In 1910, the Kusers purchased the High Point Inn and the surrounding countryside and transformed it into a magnificent country estate and private wildlife sanctuary. In 1922 they donated the mansion at High Point along with 10,500 acres for a state park, and in 1927-28 began design and construction of a war memorial on the summit, the 220-foot obelisk known as the High Point Monument. High Point State Park today still serves the long-ago intent of the Kuser family, a wildlife sanctuary accessible to all.
~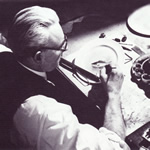 William Morley's specialty was painting special-order plates. From the Lenox site's history page:
Lenox's Ceramic Art Company, which opened in 1889, was different from all other potteries. It was organized as an art studio, rather than a factory, and offered one-of-a-kind artwares in lustrous ivory china, rather than a full line of ceramics. The exquisitely painted and modeled vases, pitchers, and tea sets, produced at first by just 18 employees, were met with an enthusiastic reception and carried in the most exclusive shops. By 1897 examples of Lenox's work were included in the collection of the Smithsonian Institution.
The fashion for art ceramics was overtaken by another trend in the early 20th century: fine home dining, often in a separate dining room. Lenox began offering custom-designed and elaborately decorated service plates to his discriminating clientele around 1902, despite the domination of European china. The plates, painted by such acclaimed artists as William Morley, were so successful that Lenox turned his attention increasingly to complete sets of dinnerware and in 1906 changed his firm's name to Lenox Incorporated to reflect the new direction from the Ceramic Art Company. (Text and Photo courtesy of Lenox site.)
~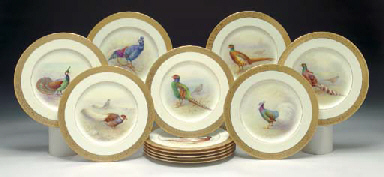 For reference only. The Kuser Pheasant Plate Set was sold at auction by Christie's in 2005, Lot 98 / Sale 1504.
~
---